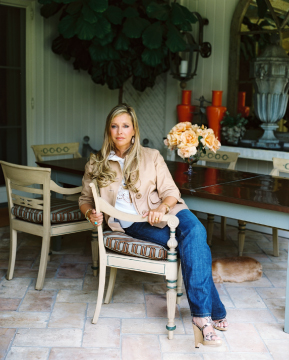 Lauren King is a respected member of the design community. She has been working in the field since 1977. Lauren has vast experience in commercial, residential, and hospitality design. She has a painting background and was a painting major at Carnegie-Mellon University. Lauren applies these fine art principles and aesthetic in her three dimensional design works. She has a great appreciation and understanding of antiques, and has shopped all over the world to put unique collections together for her clients, as well as for herself.
Lauren graduated from Moore College of Art and Design with a Bachelor of Fine Arts in Interior Design in 1977. She began her apprenticeship at Daroff Design, a top 100 commercial design firm in 1975, and stayed there until she was hired full time in 1977. Her work included projects such as the Chamber of Commerce building in Pennsylvania and Prudential Parsippany in New Jersey. Lauren moved to Los Angeles in 1977, where she worked as a space planner and decorator for an office design firm, as well as working for Integrated Design, a company which specialized in hotel design. In 1982, she launched her own design firm, LD Design. Her clients included major production offices, such as RKO Pictures, Keith Barish Production Company, and Lauren Schuler Productions. After getting married, Lauren changed her firm's name to Lauren King Inc.
As her career evolved, her interests shifted to residential design where she specialized in architectural homes. She worked on such notable Neutra homes as the Singleton House and Loring House, as well as the Smalley House, A. Quincy Jones home. Lauren moved on to decorating all types of homes in 1990. She continues to work primarily in residential design. Lauren has a deep sense of tradition and aspires to use restrained elegance with a modern twist when designing beautiful homes. Each room is a perfect composition of exquisite details and thoughtful and creative planning, with an emphasis on comfort. Lauren uses her fine art background to help clients form art collections when needed.
Lauren's designs have been featured in numerous prestigious publications, such as Architectural Digest (2011), Los Angeles Confidential (2006), House and Garden (2001), The Hollywood Reporter (2011), Power of Gardens (2009), and New Traditional Architecture (2011).
Lauren is very involved in her community, with a strong interest in architectural preservation. She has served on the board of the Los Angeles Conservancy, Bel Air Garden Club, and has been on the executive board of the Museum of Contemporary Art. She has been the West Coast Chair of the Palm Beach Antique Show, Vice President of the Beverly Hills Historic Society, and President and Vice President of the Holmby Hills Homeowners Association.